---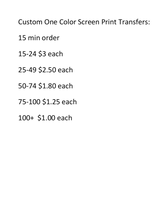 Pricing
Minimum of 15 per image 
15-24  $3.00 each

25-49 $2.50 each
50-74 $1.80 each
75-99 $ 1.25 each
100+ $1.00 each
Shipping will be $9 for standard shipping.  If you would like different shipping please let me know.
Art Work
Free if you provide our own art work.  

If I need to purchase a file you will be charged for that cost.
Files need to be sent in EPS, PNG, SVG, or PDF
There will be a $25 fee for any artwork that I need to re-draw, etc.
How to order
Email wsu_coug@charter.net with the following information
1. Size of transfer (maximum is 12x12)
2. Ink Color
3. Quantity
4. Email for invoice
5. Attach artwork
Refund Policy:
As these are a custom item there are no refunds or exchanges unless there has been damage during shipping.  You must contact us within 48 hours of you receiving your items to let us know there is an issue.  You will need to provide photos of the damage and the items must not have been used.  You will need to return all items in the original packaging if we have determined that you will be receiving a refund.